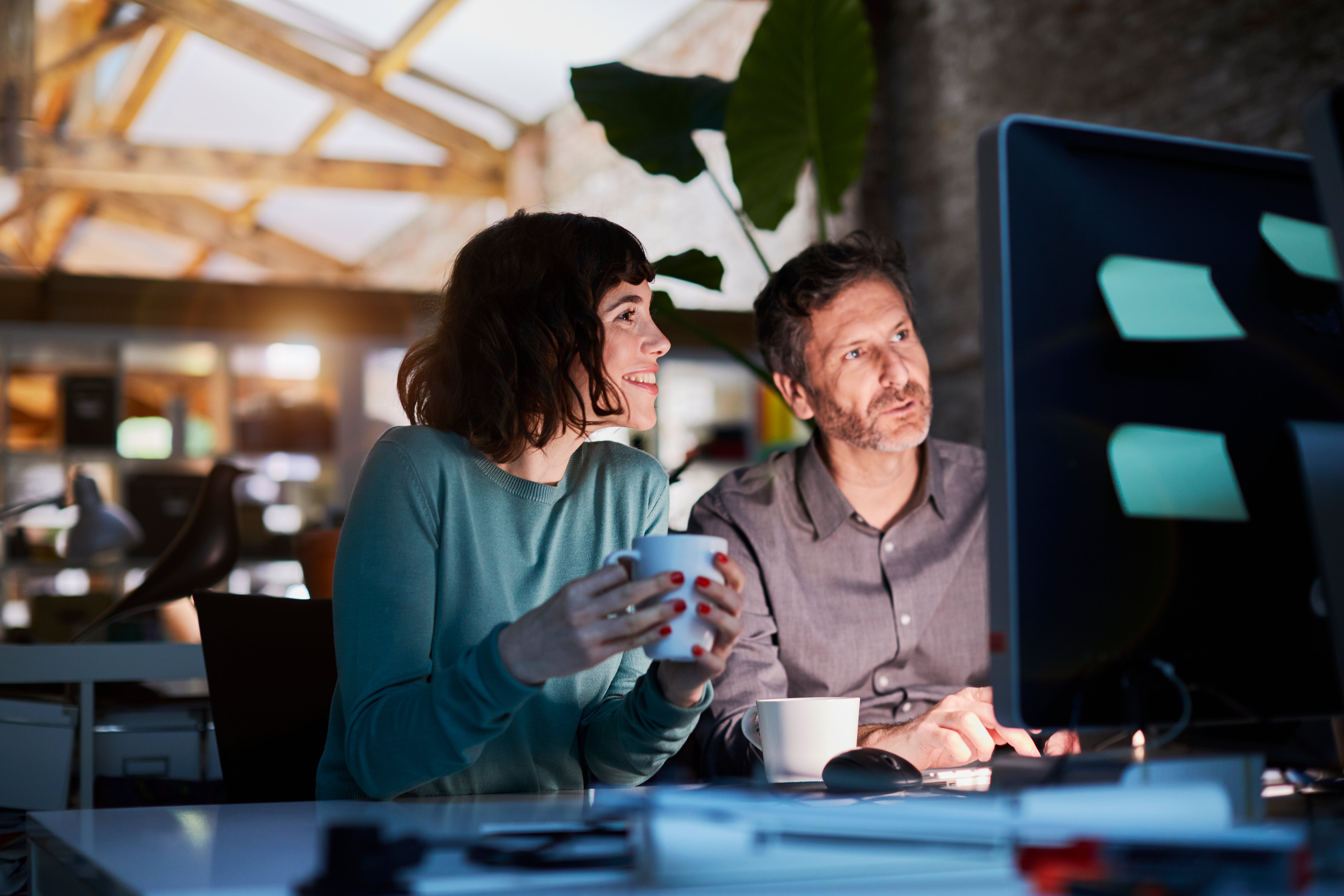 Why now is the best time in a decade to invest in startups
We are incredibly excited about helping early-stage businesses succeed and we believe now is a once in a generation opportunity for venture investing as we embrace the next generation of start-ups. Our team have a passion for helping entrepreneurs having worked closely with founders for many years, helping them grow their ideas into thriving businesses, while also providing great returns for venture investors.
We at Downing Ventures believe that now is a truly unique time for startups to evolve and create value which we are going to explore here. So, why do we believe now is a once in a decade opportunity?
Fundamental structural changes post pandemic – From work to play, we believe there are many changes that are here to stay that startups can take full advantage of. Startups are agile and are primed to take advantage of structural changes, much better than legacy companies who find it harder to innovate or adapt to new challenges. Technology is experiencing significant changes with greater cloud and AI proliferation being key drivers in the modern world. Healthcare has also evolved and been re-prioritised in light of the pandemic, from the essential work of the hospitals and doctors to the revolutionary breakthroughs of vaccine providers. The healthcare industry will continue to shape the future in how we live and how we heal that we are seeing in the healthcare startups we work with
More startups than ever before - In the period 2020/21, the UK has seen over 800,000 new companies incorporated, a c.40% growth on the year before (see graph below) and the number of dissolutions decreased illustrating a net growth of new businesses across the UK. This suggests there is wider market stability as the resources to maintaining a robust business model, whether that be funding or better access to information, are more widely available than ever before.
Total Number of UK Companies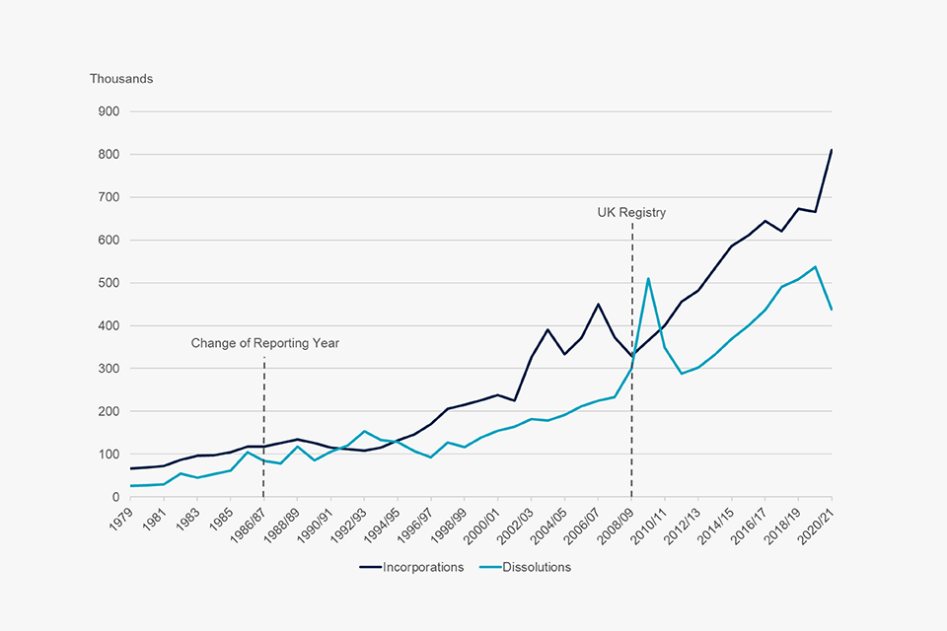 Source: Companies House
3. Plenty of capital to help - To date, in 2021 alone, over $100 billion dollars of capital has been invested in start-ups globally (see graph below). With two months of the year still to go, this number already surpasses 2020's overall investment figure – and 2020 was a record year, despite the global pandemic. Lots of investment is going into the sectors and markets we focus in – Deep Tech, Enterprise and Healthcare - and the venture market is hot meaning that for venture capitalists, and investors generally, there are ample opportunities to find great investments.
Venture Capital Investment*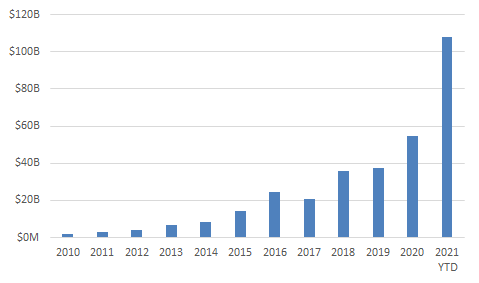 *Downing Ventures industry and geographic focus                                      
Source: Pitchbook
4. Better understood "playbook" - The journey to build a company is better established with 'repeat entrepreneurs' leading the way and teaching lessons for budding entrepreneurs everywhere in not only how to scale and exit a business successfully but to how to benefit from the increasing sources of capital that vary from angel investors to VC. There are more companies that are facilitating the various operational needs of start-ups that are helping keep down operational costs too, from Slack for communication to Asana for organisational management.
5. Technology costs - Speaking of cost....the price of technology has been steadily decreasing over the last 30 years so that today, technology is more accessible than ever. Broadband and storage costs are good examples of this at a day-to-day level with internet solutions being available for £20 per month and cloud storage being easy to access via the like of icloud. Cheaper technology is providing more scalable solutions for startups.
6. Location, location, location? - Gone are the days of successful start-ups only coming out of California. They are popping up all over the world with great companies in Manchester and Bristol in the UK and even Brixton in London to Romania becoming an emerging hub with a growing number of start-ups to watch out for. With geography no longer being a deal breaker and virtual meetings often being preferred to than actually traveling to meet prospective start-ups, the relationship between VC and start-up and vice versa has never been more accessible. Fantastic companies can come from anywhere.
7. More big exits -  2021 to date has also been record-breaking for exits thanks to public listings from the likes of Wise, Deliveroo and Darktrace. The total value of exits from our focus areas in 2021 to $500bn. With corporates sitting on record cash positions and significant amounts of dry powder within funds, we believe this will continue to enable greater exits over the coming years.This in turn is demonstrating the upside potential for startups who are breaking new ground to reach significant exits.
Company Exit by Type of Exit*
*Downing Ventures industry and geographic focus                                                                               
Source: Pitchbook
The perfect storm
Agile start-ups and scaling businesses can use all these opportunities of this climate to flourish and grow with greater resources and capabilities of reaching people than ever before. We have never been so buzzed up to be working with and investing into great new companies who can change the world and become the next big technology sensation – here's looking at you Google/Facebook/Tesla!
What do you think of the points we have raised in this piece? We would love to engage with our wider ecosystem of entrepreneurs across stages, investors and everyone in between please get in touch to let us know what you agree with and what you think is missing.
We look forward to hearing from you.