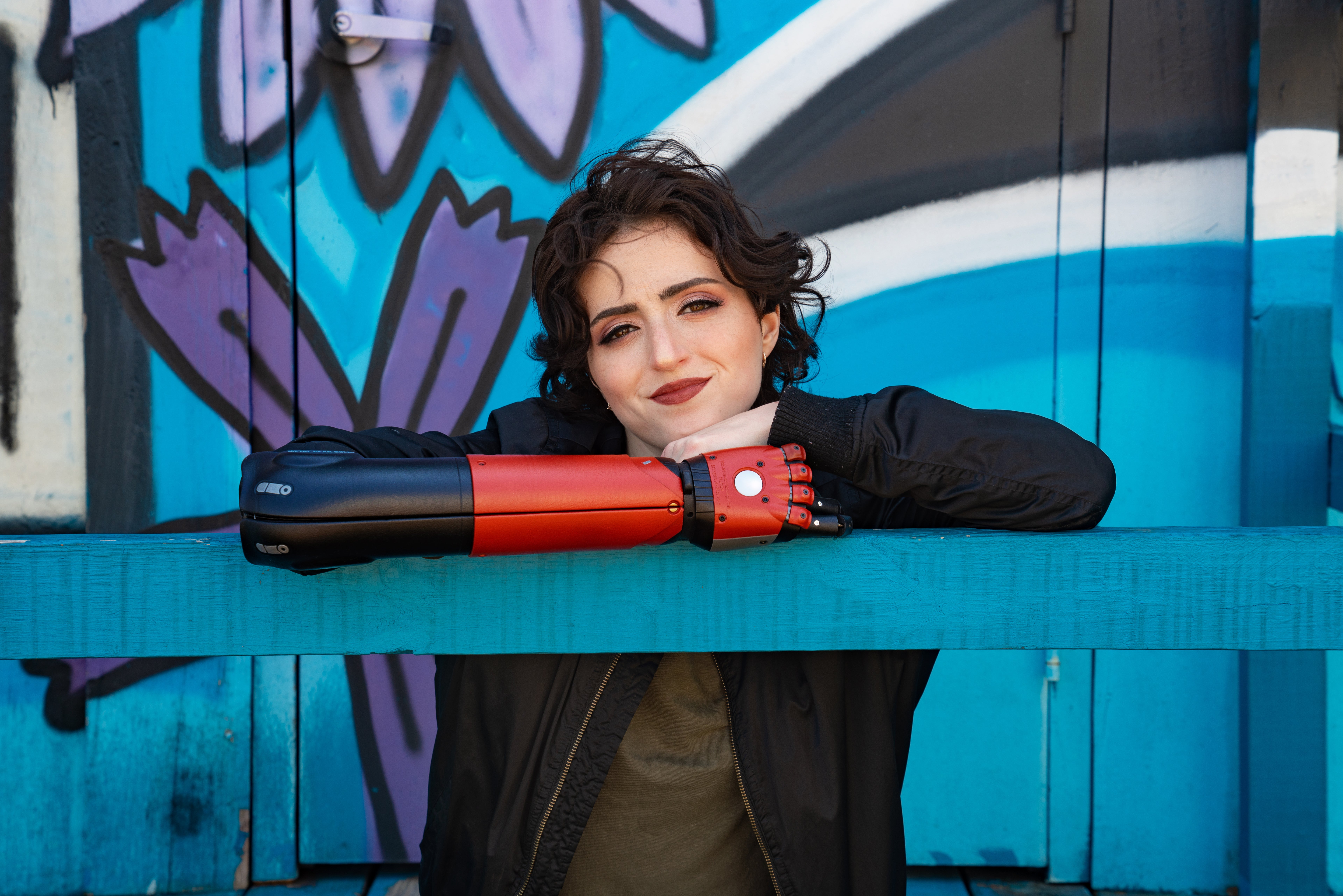 TikTok Artist born without a right hand is first in the USA to receive bionic arm
Gaming giant KONAMI DIGITAL ENTERTAINMENT Inc. has teamed up with award-winning prosthetics company and Downing Ventures portfolio company, Open Bionics, to release an official Metal Gear Solid "Venom Snake" bionic arm for below-elbow amputees. The striking new design clips onto Open Bionics' 'Hero Arm', the world's most affordable multi-grip bionic arm. 
Laiken Olive, whose pronouns are they/them, is the 21-year-old Artist from South Louisiana who has become the first recipient of the 'Venom Snake' bionic arm.
"I always get asked to do Metal Gear Solid cosplays on TikTok" says Laiken, who has amassed 26,000 followers with well over 1 million views.
In the popular video game, Venom Snake loses his arm in an explosion and wears an iconic red and black bionic arm complete with detachable missile functionality and gadgets to stun enemies.  
Whilst the Hero Arm isn't equipped with weapons, it is custom built and uses myoelectric sensors to detect underlying muscular contractions which are then amplified and converted into intuitive bionic hand movements.
When talking about the game, Laiken can see synergies with personal life experiences, "in Metal Gear Solid, the main character wakes up from being in a coma for nine years, and I've been waiting a decade to have a prosthetic that is functional and intuitive to my needs." 
"The first time my insurance claim was denied for a bionic arm, I was offered an arm with a heavy body harness most commonly known to be worn by military men. It was so heavy and put a strain on the whole body which seemed so counter-intuitive." 
From a young age, Laiken was ostracized and bullied for being different. Having to attend school wearing a hook would often be the cause for tears. 
"Growing up, the only reason I would wear my prosthetic was to hide my difference." Laiken says a lot more needs to be done to break barriers the limb difference community face daily - starting with access to prosthetic limbs. 
Going through the insurance appeal process was an "emotional roller-coaster," says Laiken. After a strenuous year of appeals Laiken had their Hero Arm fitted. 
This bionic arm is now available for amputees in clinics across the USA. 
Laiken says they chose the Hero Arm to help enhance their difference "I am non-binary because I never felt like I fit in what is set-out as a societal norm, so I really want to use these Metal Gear Solid covers to challenge not only the stigmas that surround limb difference, but put my spin on gender roles within the game."
Talking about the synergies of the game and tech Takayuki Kubo, President of KONAMI DIGITAL ENTERTAINMENT, Inc., said: "We're incredibly excited to collaborate with Open Bionics, who are at the cutting edge of robotics. We're thrilled to see the iconic Metal Gear Solid aesthetic of Venom Snake and his bionic arm burst out of the screen and come to life, in a dynamic fusion of technology and design that is changing the lives of upper limb amputees all over the world." 
Samantha Payne, COO and Co-founder of Open Bionics, said: "Venom Snake's bionic arm is one of the most requested cover designs for the Hero Arm of all time, so we're incredibly grateful to KONAMI for working with us to turn fiction into reality. We love seeing how Laiken uses their new bionic arm as an empowering tool."
Upper limb amputees who want to find out more about the Hero Arm and register their interest can find out more info here: https://openbionics.com/hero-arm/ 
ENDS
About KONAMI DIGITAL ENTERTAINMENT
Konami Digital Entertainment, which is the core company of Konami Group, develops
entertaining content for mobile, console and card games. The company is known for global
franchises such as PES, Metal Gear, Silent Hill, Castlevania, and Contra, as well as the
Yu-Gi-Oh! Trading Card Game series.
Social media handles:
https://www.facebook.com/konami 
https://www.instagram.com/konami/ 
About Open Bionics: 
Open Bionics is an internationally recognized robotics company working with partners like Disney, Konami, Fox, and Eidos-Montreal to turn disabilities into superpowers. Founded by Samantha Payne and Joel Gibbard in 2014, the company has won over 30 engineering and innovation awards including the Robotics for Good Award. 
The company's first product is the life-changing Hero Arm for below-elbow amputees. Since launching the bionic arm in 2018, the company has grown with its community to provide prosthetics for children as young as eight years old and adults who are born without hands or who lose hands to accident, injury, or illness. Children and adults with below-elbow limb differences can register interest at: www.openbionics.com/sign-up 
Social media handles:
https://www.facebook.com/openbionicsltd 
https://www.instagram.com/openbionics/ 
https://twitter.com/openbionics 
https://www.tiktok.com/@openbionics?lang=en 
About Laiken Olive:
Laiken Olive (pronouns they/them) is a 21-year old artist, mum, student from Houma, South Louisiana. Born with a congenital limb difference, Laiken has had a tough journey growing up. From a young age Laiken was ostracized and bullied at school, having to wear skin-toned prosthesis with minimal function to hide their difference. Upon seeing the Hero Arm and how unapologetically bionic it was, Laiken knew they found the right prosthesis that would allow them to express their personality.
Laiken experimented with Cosplays on TikTok to raise awareness about limb difference and document their journey of becoming bionic. After being denied multiple times by insurance, Laiken was offered a skin-toned prosthesis with a body harness which they felt was cumbersome and heavy. Discouraged by the process, Laiken almost gave up on trying to get a bionic limb. With a growing global social media audience supporting them, Laiken persisted until their insurance claim was approved for a Hero Arm. Now, with their new found confidence, Laiken gets over a million views on their TikTok and is on a mission to break stigmas that still surround the limb difference community. 
Social media handles:
https://www.tiktok.com/@thebionicbabe?lang=en 
https://www.instagram.com/thebionicbabes/ 
https://twitter.com/LaikenOlive