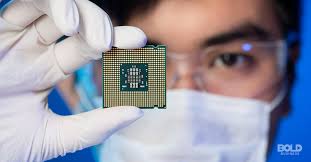 The rise and rise of the semiconductor
The semiconductor industry has always been a part of the tech ecosystem that has fascinated and terrified the venture capital industry in equal measures. While the industry plays a pivotal role in all electronic goods and a host of other technology markets, it has often been a glaring omission in the portfolios of venture capitalists.  
What are semiconductors? 
Semiconductors are essential components of electronic devices that enable advances in communications, computing, healthcare, transportation, clean energy, and a host of other applications.  Semiconductors are typically made of silicon and play a pivotal role in allowing electronics to become smaller, faster and more reliable.  
The exception to the rule  
Financial investors are predisposed to large global technology markets but the behemoth that is semiconductors can be an exception to the rule. In contrast, internet and enterprise software businesses have a risk profile that attracts both specialist and generalist venture capital investors in waves.  
As the first quarter of 2021 saw record highs in global venture capital investment, the number of venture capital investors including semiconductor investments in their portfolio grew. However, the majority of capital invested in semiconductors is directed towards Chinese start-ups, while European investors are more reluctant to join the party.  Although there are numerous reasons cited for this hesitancy (some valid, others outdated), there are reasons to believe that this will change as the lack of semi exposure in a fund becomes harder to defend. 
An increasing market ripe for disruption 
While the semiconductor market is massive by most standards, growth rates for the early part of the last decade plateaued at 3-5% per annum as the industry reached a semblance of maturity. 2020 was challenging, but it's likely that growth will accelerate over the medium term, driven by the array of new markets that require semiconductors.  
The emergence of autonomous vehicles, the Internet of Things (IoT) and 5G will fuel this growth, alongside digitisation in agriculture. These emergent mass markets should also even out the 'boom and bust' nature of semiconductors as the industry becomes less reliant on a handful of products (laptops, smart phones). The nascent markets will also provide the most disruptive and innovative semiconductor companies with a window of opportunity to seize market share, given the lack of dominant market leaders.  
The investment case 
Venture capitalists have a playbook of reasons to turn down entrepreneurs seeking finance. In the semiconductor market, 'capital intensity' is the often-cited issue that brings a rapid end to the conversation. Bringing silicon to market is not for the faint hearted: it will likely cost $20m – $40m to bring one chip from design phase to commercial deployment - a serious amount of capital when the likelihood of a successful outcome is difficult to predict. This cost hasn't diminished over time, which is in contrast with the capital required to build an internet business of substance.  
15+ years ago, an internet founder would need to raise a small fortune to build on premise storage, buy a raft of operating software and create brand awareness. The emergence of cloud software, software-as-a-service and digital marketing means that a savvy entrepreneur can now build something truly valuable with as little as $10m.  
Overcoming allocation bias will be a never-ending challenge for semiconductor entrepreneurs looking to convince venture capital investors to take a chance on them. The widely understood cost of bringing silicon to market has, thankfully, driven a material increase in Series A semiconductor round sizes, from c.$12m in 2017 to c.$20m in 2020. This has provided start-ups with the funds to adopt more advanced design technologies (e.g. Electronic Design Automation) and more time to overcome supply side constraints (a foundry partner with capacity at the right price). 
A chip off the old block  
Ultimately, venture capitalists are seeking risk-adjusted returns that compensate them for the risk they are accepting. In the semiconductor market, the capital requirements, the long period on risk and the customer demand for annual average selling price erosion can make this a difficult ask. Despite this, it is a good time to be a chip entrepreneur: a number of venture capitalist firms have doubled down on semiconductors with funding shortfalls often filled by corporates, strategic investors and state sponsored funds (particularly in China), who can have a fundamentally different perception of risk. 
Over the last decade, semiconductor venture capital investors have gravitated to start-ups active in sectors perceived to be the latest thing (IOT, servers, networking). Going forward, it is clear that Artificial Intelligence and its application in high performance computing and cloud applications will achieve a great deal of attention.  
As always, this will continue to be a high stakes game, whereby design errors and missing foundry slots could mean that that the vaunted first design win proves elusive. At Downing, we believe that the amount of venture capital money allocated to semiconductor startups will continue to grow, with more generalist funds investing. It should be an interesting ride, one that European investors will find it hard to ignore.