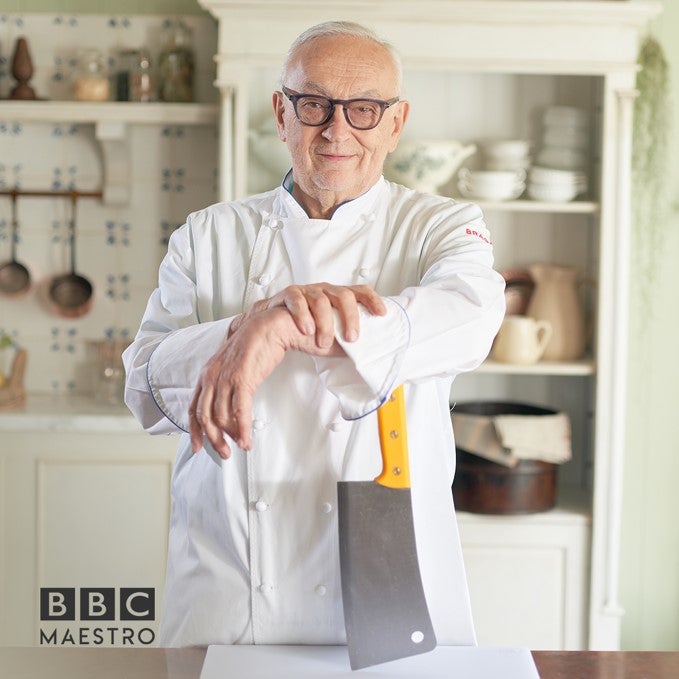 Pierre Koffmann and Richard Bertinet launch their BBC Maestro courses
Downing Ventures portfolio company, BBC Maestro, launch two new courses, Classic French Bistro Cooking with Pierre Koffmann and Bread Making with Richard Bertinet. For the first time, beginners, hobbyists and professional cooks alike will have access to the kitchen secrets and decades of experience of these two culinary giants.
Pierre and Richard join other incredible world-class experts on the BBC Maestro platform including Gary Barlow, Julia Donaldson, Marco Pierre White, David Walliams, and Line of Duty's creator, Jed Mercurio.
Pierre Koffmann – Classic French Bistro Cooking
Living legend of the kitchen, Pierre Koffmann held 3 Michelin stars at his world-famous London restaurant for 15 years. La Tante Claire became the hub of British gastronomy and Pierre, its greatest teacher. The number of top chefs who have trained under Pierre Koffmann is truly astonishing – Gordon Ramsay, Marco Pierre White, Marcus Wareing, Bruno Loubet, Tom Kitchin, Tom Aikens, Jason Atherton, to name but a few. Pierre's protégés have amassed more than 20 Michelin stars between them.  Now it's your chance to learn from the godfather of French gastronomy as he teaches you the fundamentals of French Bistro Cooking through 24 of his best-loved recipes.  Dishes like fish soup, soufflé, duck confit, fillet steak with bordelaise sauce and of course how to make the best stocks in the world, simply at home.
"My aim in these lessons and these course notes is to transform you into a confident cook, teach you some new skills, and give you handy tips and tricks to help you along the way."                            
– Pierre Koffmann
Richard Bertinet – Bread Making
Richard Bertinet has been baking professionally since the age of 14 and teaching the next generation of bakers for over 30 years. He is well-loved and well-known for being the UK's baking 'godfather', and his award-winning book, Dough, revolutionised the simplicity of bread making. Now anyone can learn his techniques and bake masterpieces at home, from their own sourdough starter to pizza, brioche, focaccia, burger buns, rye bread and more.
"I will never tire of making my own bread and experimenting with different flours and flavours, and I hope that this course will inspire you in the same way."
– Richard Bertinet
About BBC Maestro
BBC Maestro launched in October 2020 to phenomenal success. The first four courses attracted more than one million people to the service, with thousands signing up to learn from their favourite Maestro. Whether you are a novice or an amateur enthusiast, BBC Maestro allows you to indulge in your area of passion from the comfort of your own home and learn from the world's greatest experts. Each course is beautifully filmed in 4K and offers several hours of content, broken down into 20 to 40 easily digested lessons accompanied by downloadable course notes filled with hints, tips and a breakdown of each course. Bertinet and Koffmann join Julia Donaldson, David Walliams, Gary Barlow, Marco Pierre White and Line of Duty creator, Jed Mercurio at BBC Maestro, and coming soon are Malorie Blackman, Sir Tim Rice, Peter Jones and more – all imparting wisdom, expertise and industry secrets.
BBC Maestro taps into the fast-growing space of e-learning – because of the way technology has revolutionised teaching and learning, lessons no longer must be confined to the classroom. In 2020, the number of people using online learning videos rose dramatically, with an estimated 200 million users worldwide. The global 'Mass Open Online Courses' market size is expected to increase from $7.3 billion in 2020 to $67 billion by 2027.
BBC Maestro is a commercial platform developed and  operated by Maestro Media Ltd under licence from BBC Studios Distribution Ltd. . BBC is a trademark of the British Broadcasting Corporation and is used under license. BBC logo © 1996
Quote: Michael Levine - Managing Director, BBC Maestro. 
"We're beyond excited to welcome Pierre Koffmann and Richard Bertinet to BBC Maestro. They have revolutionised cooking in their respective fields and are widely revered by chefs and diners alike. Now our customers will be able to experience intimate lessons from home and create their own culinary masterpieces. It truly is a unique opportunity for any food lover, hobbyist cook or professional chef."
Each course is available on www.bbcmaestro.com, costing £80 for lifetime access to 20+ lessons including comprehensive written course notes for each one.
END