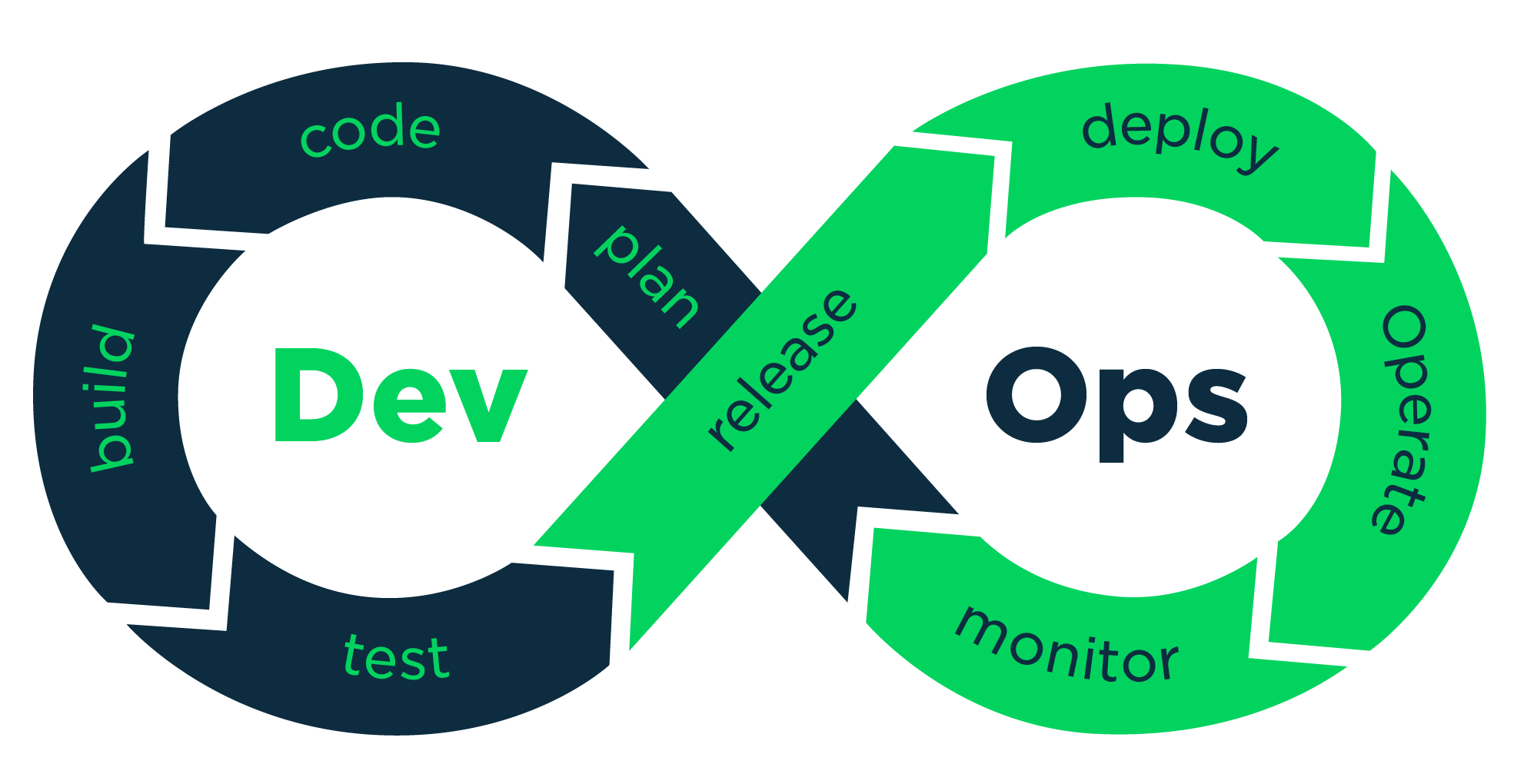 Downing Ventures launches new DevOps community
We spend a great deal of time looking at future trends within our core thematic focus areas of Enterprise, Deep Tech and Healthcare. One area of Enterprise we are excited about is DevOps and we believe there continues to be great investment opportunities in this space. So much so, that we have created a developer community to harness this momentum and collectively discuss and work on the most compelling opportunities. Read on to find out more and join our community 
What is DevOps ? 
The term DevOps was coined in 2009 by Patrick Debois and refers to bridging the gap between development and operations in the context of software development.  
DevOps is more of a culture and approach than a specific technology or standard; it focuses on more agile and scalable software development, deployment and ongoing operational product management.  
Large financial institutions, such as IG, global tech companies, such as Facebook, and pioneering food companies like Just Eat have one thing in common; they have embraced DevOps as a culture to help improve their product and drive efficiencies in their business. If you're interested in finding out more about DevOps, see these case studies here.  
We see these core components as vital to the DevOps enterprise sector: 
More synchronised teams: Improving working environments with more efficient, aligned, fully integrated systems rather than teams being different systems 
Organisational responsibilities: Clear understanding of where tasks lie and enabling the continued iterative development approach from longer term development and short-term bug fixes 
Continuous change: A move to continuous delivery and integration is a key shift to enable a real-time business development program, as the modern developer continues to push out more content 
Measurement: Tech teams monitoring real-time measurement of product performance and deliverables to drive success and be able to optimise results. 
Learning to fail: a perfect release does not happen in any development cycle but quick identification of issues and remedies are vital to support a superior product. Building in redundancy systems to help deal with failure is key. 
Optimised tooling and automation: a key principal to DevOps is ensuring there is a product focused mindset, which looks to build in automation where possible and find appropriate tools that enable most effective delivery. 
Where are we now? 
While the notion of DevOps isn't entirely new, large companies are increasingly adopting DevOps approaches into their business. From Amazon and Netflix to Adidas and BMW, all are examples of companies which have embraced DevOps to help drive more product focused development and more efficiencies within their organisations. 
This graph highlights the transition to a greater level of adoption of DevOps and the upside potential of the market, with only 16% of enterprises having a high DevOps evolution.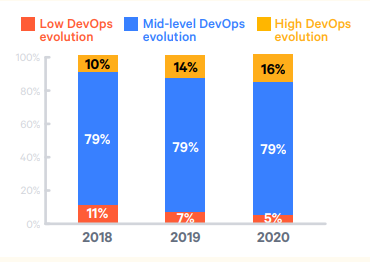 This second graph illustrates how implementing DevOps solutions enables companies to become more product orientated and focus on iterating their product, putting customer needs first. With a DevOps infrastructure, companies can develop faster and have a lower burden across the deployment and management of software.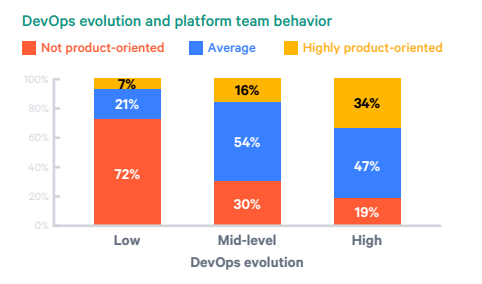 Source: State of DevOps report 2020 
Why is DevOps becoming more important? 
There are several reasons. 
Efficiency and rising developer wages 
Driving efficiencies in technology spend is vital for all businesses of any size. As developer wages have rocketed with the increase in demand, businesses need to ensure optimum value of their tech spend, which is an aspect that DevOps supports. 
     2. Cost outages 
Software is now an integral component of any tech system, making technical outages very costly, with revenue more and more dependent on software in our ever digitised world. This might apply to cloud storage or an e-commerce experience, for example. DevOps decreases the chances of failure. 
     3. ArtificiaI Intelligence (AI) and Machine Learning (ML) proliferation  
Increasing AI/ML across sectors and scenarios requires more automated management to rectify problems that arise. This creates DevOps challenges because a more complex and dynamic response system is needed for many evolving ML models to replace the static response format that has been used historically.  
What next? 
Here are three predictions from experts across the technology sector that we think hit the nail on the head in terms of the direction that DevOps is going: 
DevOps will integrate with AIOps to provide seamless operational feedback, and automated bug fixes will remove most human involvement 
"The advantage of leveraging artificial intelligence for IT operations (AIOps) as part of the DevOps tool chain...will be to provide automated improvement of application operations, without having to have humans figure out what's wrong and how to fix it." 

—David Linthicum, chief cloud strategy officer at Deloitte Consulting 
The acceleration of cloud adoption during the pandemic will shift the software security landscape dramatically 
"While DevOps represents a clear evolution in the way that software is built, delivered, and operated, the architecture, composition, and very definition of applications will continue to change rapidly, leading to a rethink of software security approaches. These dual pressures of delivery velocity and cloud transformation will have a big impact on software security." 

—Jason Schmitt, general manager of the Synopsys Software Integrity Group 
Predictive DevOps will be the next transformation that will deliver business value. 
"This is about using AIOps techniques across the delivery chain to be more efficient in delivering continuous value improvements for the business. To achieve true value, DevOps teams will pivot toward monitoring the business instead of monitoring the application or infrastructure." 
—Lars Rossen, chief technology officer, Micro Focus 
For more 2021 predictions in DevOps here is an interesting article from Tech Beacon.  
Exit/Returns 
Ensuring there are paths to exit and driving returns is crucial to our theme work at Downing. The DevOps market is rapidly evolving with some large exits throughout 2020 as more companies are consolidating different segments of the DevOps sector.  
Recent notable deals in the DevOps space include: 
SUSE buying Rancher for over $600M within the Kubernetes space 
IBM's large acquisition of Instana in late 2020, an application performance management software company  
VMware's acquisition of Saltstack, in the automation of infrastructure management 
Later stage deals such as Hashicorp, a DevOps infrastructure management platform raising a c.$5 billion valuation 
Two multi-billion-dollar IPOs happened in 2020: JFrog now at north of a $5 billion valuation and Sumo Logic at over $2 billion 
Calling all developers… 
For all these reasons, we see that the developer revolution is happening and it is continuing to grow at a rapid pace. If you are a developer, we want to hear from you.  
DevOps is growing across the globe and so we are growing our network of developers to  build a panel of experts in order to: 
share insights 
test ideas 
highlight new opportunities  
enable investment into new exciting developer-led opportunities globally.  
If you are a developer or in the developer ecosystem, please feel free to sign up to this platform here. We are truly excited about this new opportunity about creating global connections to get to know the wider developer community and would love to bring you on the journey with us. 
If you have any further questions, please contact jack.eadie@downing.co.uk